In a poll conducted in 2016, 7 in 10 Parents send their children to Tuition.
Tuition is a proven solution to scoring a Distinction for major examinations – PSLE, O Levels, A Levels. Learn more about your tuition options here.
So now you decided to find a Tutor for your child.
Find out how to request a tutor with the tips below:
1. Identify Reputable Agencies
2. Find out Level & Subject tuition
3. Fill in Online Request Form
4. Furnish Additional Details
5. Start the First Lesson
Learn the basics of how tuition works to get a better understanding on how it benefits your child.
1. Identify Reputable Agencies
Many tuition agencies in Singapore offer home tuition Services.
A few of those also have bad practices that might cause some issues in the future (Tutor Blacklist).
Before you provide your details to any tuition agency, check online for any bad/negative reviews for the shortlisted agencies. A brief Google search will bring up some providers that you should avoid.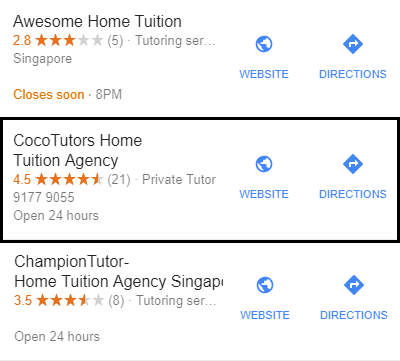 Above is retrieved from a Google Search of the keyword "home tuition".
You can read the reviews from their past clients, and based on their Google Reviews, and make your decision from there.
2. Find out Level & Subject Tuition
Before you even considered looking for tuition, there should be about 1-2 subjects that have in mind already.
The most common subject that Parents look for is Maths – P6 Maths, OLevel EMath and AMath, JC H2 Maths.
Followed by the Sciences, either Science or Physics/Chemistry/Biology.
Based on our experience, one subject that most Parents neglect until the last minute is English. Reason being they speak it everyday, and should have no problem scoring – but that misconception can never be more wrong.
3. Fill in Online Request Form
You can fill out their Online Request Form, or give them a call directly.
Usually agents/coordinators will respond really quickly, and provide follow up information as well as Tutors for you to choose from.
TuitionAgency.SG Services:
– Request Form
– Call: 9177 9055
4. Furnish Additional Details
During liaising with the agents/coordinators, you can add in any requirements or preferences you have.
Some common preferences for the Tutor would include race/gender. This is strongly not recommended as it would wipe out 50% of all available tutors to match.
Common additional requests by Parents: 
– Phone interview before confirming
– Trial Lesson to assess suitability
– Bring certificates and IC (not needed since verified on our end prior)
– Provide additional materials such as School papers & questions
5. Start the First Lesson
You will be choosing a Tutor from a few that the agency provides.
Once the tuition details have been confirmed, you can commence the first lesson!
If the tutor turns out to be unsuitable, you should be able to request for a cancellation/termination for the tutor. TuitionAgency.SG provides free cancellation and replacement of Tutor. (See: Tutor Horror Stories)
Considering getting Home Tuition? Start with a Free Tutor Search now!